BHEL Partnership with Nanhi Chhaan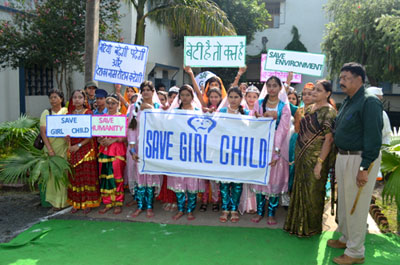 Subsequent to the Guruvayur Temple launch event of 15th August, we have been maintaining regular follow-up with officials at BHEL to take the Nanhi Chhaan agenda forward. In a meeting with Mr. V.K. Sharma, CSR head, he informed us of our letter having reached their Chairman, Mr. Rao, who will be responding shortly with details of the Bhopal programme and taking forward the partnership to a National level.
BHEL, carrying forward its endeavour to protect the girl child and the environment,
organized a campaign at their Bhopal township on 25th August. The audience comprised of girl children from Vikram School and other BHEL run schools and the entire BHEL fraternity wholeheartedly participated in the campaign organized at the Vikram School premises. They had prepared a colourful display of banners, posters and placards on importance of protecting the girl child and the environment.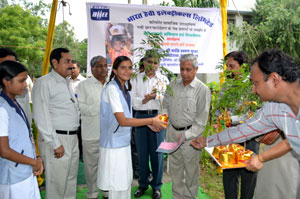 Entertaining programs and competitions like Fancy Dress, slogan writing, painting, declamation etc. were presented by the school children and brought smiles on the faces of the audience amidst loud cheer and fanfare. Little girls, elegantly dressed up as famous women from India's glorious history represented the likes of Razia Sultan, Rani of Jhansi, Indira Gandhi and others in order to spread the message that there is an urgent need to protect girls for creating a peaceful society. The children also presented folk songs and received huge applause from the visiting dignitaries. Around 250 children participated in the program and prizes were awarded to the winners.
Mr. S.S. Gupta, ED, BHEL-Bhopal, while inaugurating the campaign, urged upon the teaching fraternity to come forward in disseminating the messages of environment conservation and protection of girl child on a regular and sustainable basis. The program got a further boost as it was launched along with the BHEL - Bhopal annual plantation programme 'Samuhik Paudharopan Mahotsav-2012'. Officials/employees of BHEL Bhopal and their families, resident families from the vicinity of the township, teachers from schools, joined the campaign and participated in planting of saplings. As is evident in the attached photos, the drive saw good participation from schools and from the community. To take the programme to other BHEL campuses (Hardwar), We are in touch with their teams and will maintain follow-up.