CII National Summit on CSR: Monday, 30 September, 2013: Silver Oak, India Habitat Centre, New Delhi
Home
»
News
» CII National Summit on CSR: Monday, 30 September, 2013: Silver Oak, India Habitat Centre, New Delhi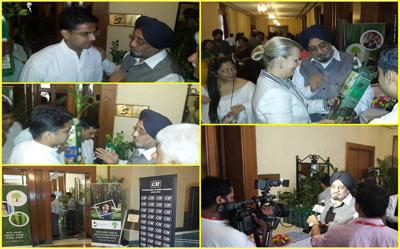 Nanhi Chhaan participated with our National Partner, CII, at the prestigious National summit on CSR in the following 4 ways -
Great visibility at the event - Nanhi Chhaan stall for saplings distribution for all delegates(250)
Chief Guest, Mr. Sachin Pilot (Minister for Corporate Affairs) received a sapling from our stall and was informed about Nanhi Chhaan's activities by the Chairman Mr. Harpal Singh.
It was a matter of great pride for Nanhi Chhaan with the release of CII - CSR compendium which included a 2 pager note on Impact Projects and Nanhi Chhaan. As this compendium is released nationally and has a listing of 85 corporates only, greatly enhancing the visibility of Impact Project's CSR initiatives with the Nanhi Chhaan Foundation.
Nanhi Chhaan leaflets and brochures were included in the CII info pack given to all delegates and speakers at the event.
The New Companies Bill recently passed by the parliament, is a crucial change in the way CSR would be undertaken in India. CSR will now be seen as a core function within the industry and hence strengthen the role of corporate beyond profit. Mr. Harpal Singh chaired the session - CSR & MDGs: Call to Action for Partnerships, which included eminent speakers such as Ms. Lise Grande, UN Resident Director & UNDP Representative, Dr. S Y Quraishi, Former Chief Election Commissioner of India, Mr. Vijay Chadda, CEO, Bharti Foundation, Mr. Shankar Venkateswaranm, Director PWC.