DPS Society partners with Nanhi Chhaan to save the girl child, protect environment & promote secularism
Home
»
Initiatives
» DPS Society partners with Nanhi Chhaan to save the girl child, protect environment & promote secularism
"DPS ki Nanhi Chhaan" poised to become one of the largest school movements of its kind
Dignitaries present at the occasion:
Chief Guest : Mr. Kapil Sibal, Union HRD Minister
Guest of Honour: Mr. Salman Khurshid, Minister, Law & Justice; Mr. Mr. Rajendra Pawar, Chairman & Co-founder, NIIT Group

Mr. Ashok Chandra, Chairman, DPS Society; Mr. Harpal Singh, Chairman, Nanhi Chhaan Foundation (also Mentor & Chairman Emeritus, Fortis Healthcare Limited)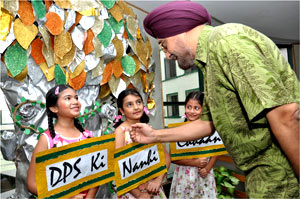 New Delhi, July 29, 2011: The Delhi Public School Society (DPS Society), a non-profit, non-proprietary, private, educational organization that has a network of over 140 English medium, co-educational, secular schools providing quality education from pre-nursery / nursery to class XII has been invited as a National Partner by Nanhi Chhaan Foundation, a national movement that builds alliances, strengthens capacity, influences policies, harnesses resources and inspires action to save the girl child, improve environment by planting trees and save humanity through promoting inter-religion harmony and secularism. The objective of the foundation is to address these issues and to restore nature's balance through various school based activities. The partnership program named "DPS Society ki Nanhi Chhaan"is proposed to reach out to 10000 young adolescents in 25 schools across North India in the first phase of the campaign.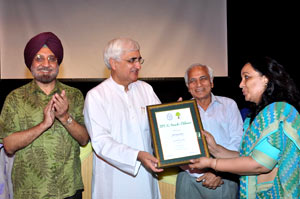 A vibrant launch ceremony held at DPS International, Saket, New Delhi, marked the beginning of this partnership. Principals of the participating schools received plaques from Mr. Kapil Sibal, Union HRD Minister, who in his keynote address impressed upon the need for more such partnership initiatives. Mr. Ashok Chandra, Chairman, DPS Society in his welcome address reiterated DPS Society's commitment to these three contemporary national issues and outlined the three dimensions of the campaign. Mr. Salman Khurshid, Minister, Law & Justice (an eminent DPS alumnus) and Mr. Rajendra Pawar, Chairman & Co-founder, NIIT Group presided over the ceremony as the Guests of Honour. A representative audience of over 500 students, teachers, and educational administrators pledged its commitment by receiving saplings on the occasion. The peaceful chants of Sarva Dharma Prarthna (an all faith prayer) set the context for cultural performance by the students. The dance and music based performance highlighted the understanding of the three issues by young DPS students, the agents of social change.
Mr. Harpal Singh, Chairman, Nanhi Chhaan Foundation (also the Mentor & Chairman Emeritus, Fortis Healthcare Limited) introduced the attendees to the Nanhi Chhaan concept. "We are well on our way to become one of the largest school movements of its kind in the country. At Nanhi Chhaan, we have very innovatively and inspiringly connected the issues – of protecting the girl child and the trees - as respecting motherhood. Daughters who grow up to be mothers imparting a blissful shelter to the family, and trees that grow up to provide the life sustaining cover to the ecosystem are the greatest givers and therefore need to be protected and preserved. And what better than faith to promote the dual cause and be blessed twice over," said Mr. Harpal Singh while addressing the august gathering at the occasion.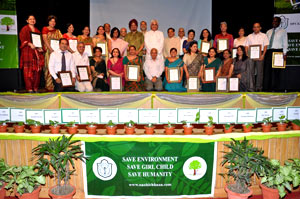 Nanhi Chhaan Foundation and the participating schools of the DPS Society shall conduct various activities from August to November this year. For creating awareness on empowering the girl child, students shall engage in panel discussions and talks, workshops, research presentations, poetry writing, photo exhibitions, painting competitions, digital collage making etc. For creating awareness on environment conservation, herbal corners shall be developed besides planting trees and developing green areas in schools. A school waste management plan shall be devised besides launching a school cleanliness drive. Students shall prepare short films around the lives of waste pickers, especially children, to prove, how disciplined waste management can lead to positive changes in their lives and environment. For promoting secularism, eminent personalities shall be invited to the schools for talks. Every school shall prepare a report on initiatives undertaken for inter-faith harmony.
A national culmination event shall be organized in November 2011 wherein the school teams shall be felicitated for their creative pursuits to promote the aforementioned causes. Other activities planned for the culmination event include an exhibition of the prize winning posters on herbal corners; release of a compilation of research on empowered women, and a compilation of initiatives undertaken to promote inter-religion harmony respectively; cultural show by school students and multimedia presentations of the glimpses of the entire campaign.
Nanhi Chhaan Foundation has been working very closely with school students in the recent past. Recently, it was launched as a national movement by the Hon'ble President of India, Smt. Pratibha Devisingh Patil at the Gandhi Darshan, Raj Ghat, New Delhi amidst presence of partner school students. Nanhi Chhaan has adopted an underprivileged school in Manger village of Faridabad, Haryana in association with Salwan Public School, Rajendra Nagar, New Delhi and another underprivileged school in Qila Jiwan Singh village, Block Jandiala Guru of Amritsar, Punjab. Besides this, it was one of the few select not-for-profit organizations in the country to send girl students from rural partner schools in Punjab and Rajasthan for a rare meeting with the first lady of the United States, Mrs. Michele Obama in November last year, during her visit to Delhi along with Mr. Barack Obama, the Hon'ble President of USA. About a year back, Nanhi Chhaan launched its crusade against the appalling gender ratio and tree cover in another school of national repute, the Mayo Girls at Ajmer, Rajasthan."