Nanhi Chhaan at Ajmer Sharif
In line with our intention to maintain a strong pace of spreading awareness in North India, Nanhi Chhaan was launched on August 1,10 from Ajmer in presence of Sh. Salman Khurshid (Minister of Corporate Affairs) and Sh. Jyotiraditya M. Scindia- Minister of State (Commerce &
Industry) and dignitaries from all over Rajasthan.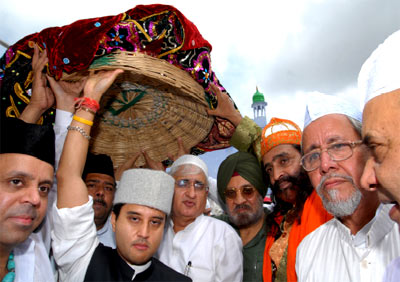 Dargah Sharif: The blessings of the revered Dargah were sought by holding prayers in the sanctum by the ministers and the dignitaries present at The Dargah. Mr. Hazi Gulam Qibriya, President of Anjuman committee, Nazim and other functionaries of Dargah participated
and spoke. Noor Alam Chishti ji read a poem on Nanhi Chhaan. Saplings were distributed to small girls present on the occasion. The Ministers and Mr. Harpal Singh exorted all present and thanked the Dargah administration for the blessings from Dargah Sharif to Nanhi Chhaan.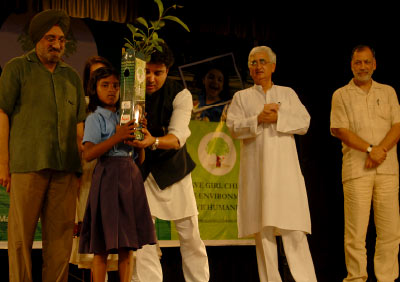 Mayo School Function: The event began with sapling plantation and signing of the pledge wall by the ministers and other VIPs. The auditorium was packed to capacity with 1500 students representing 9 schools/colleges of Ajmer & Jaipur, teachers, VIPs and press. After lighting of the lamp Ms. Zila Khan gave a widely appreciated Sufi recital. This was followed by a passionate welcome and advocative address by Mr. Harpal Singh. Three skits/songs by students of Savitri, Sophia and Mayo schools followed which depicted the need for empowering girls and saving trees. These were very thought provoking and were highly appreciated.
The program ended with inspiring speeches by the Ministers. Mr. Khurshid addressing the gathering said both girls and trees needed protection and preservation for sustenance of life on Earth. "Both are Universal Mothers whose protection is vital and imperative". Mr. Scindia said "Educating a woman is akin to educating her family". Quoting former Prime Minister Mrs. Indira Gandhi he said "if you educate a man, you educate one person. But if you educate a woman you educate the entire family". The event was covered very well in both electronic and print media with 20 press reports and coverage by Doordarshan, Aaj Tak and TV 99. About 2000 sapling were distributed to all.
Follow Up Program:
1. Sapling distribution kiosks were subsequently set up at Savitri, Sophia and St. Mary Schools for distribution of saplings to all students.
2. It was decided that colleges/schools will follow the Nanhi Chhaan objectives in villages and community through their social clubs.