Nanhi Chhaan 5th Anniversary Function – Manekshaw Centre, Delhi 27th August, 2013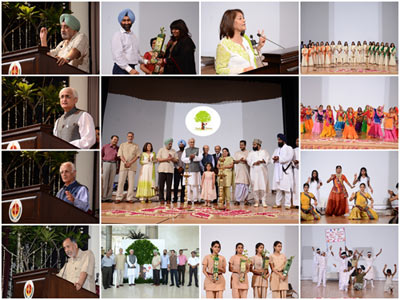 Manekshaw Centre, Delhi Cantonment brightened up with smiles as Nanhi Chhaan Foundation celebrated its 5th year of creating awareness on restoring the gender ratio (protecting the girl child and women's empowerment), environment preservation (increasing tree cover) and promotion of secularism. The rich cultural extravaganza saw an audience of 600+ comprising of students from various schools, Nanhi Chhaan partners, faith leaders etc. with performances from various schools and organizations, was presided by Shri Salman Khurshid as the Chief Guest and many eminent patrons of the Foundation.
The various institutes that gave performances at the function representing our rich cultural and geographical diversity were Salwan Schools, Park College, Coimbatore, Fortis, Scindia School, Gwalior, Save The Children, Shovana Narayana & Troupe and GHPS, Ganganagar. The function began with the ceremonial lighting of lamp by the Chief Guest Sh. Salman Khurshid, patrons Mr. Arun Maira, Mr. Malvinder Singh, Mr. Rajendra Pawar, Mrs. Rekha Purie along with 4 faith leaders and the invocation song – "Aman ke Phool" performed by students of Salwan School. Mr. Arun Maira welcomed everybody in his address while briefly talking about Nanhi Chhaan's journey in the last 5 years and his personal attachment towards the cause.
Nanhi Chhaan's entry into South India was led by the Park Group of Colleges in Coimbatore and their students were next to perform a short skit on Interfaith Harmony. Staff members from the housekeeping and nursing departments of Fortis Hospitals were next to perform a thought provoking skit based on women empowerment showing how women posses the unique ability to excel even in the face of many hardships. Saplings were gifted on stage to honour women who have excelled in various arenas by patron Mr. Malvinder M. Singh to 4 ladies.
Next was a cultural program on the evil practice of dowry performed by students of Scindia School, Gwalior. A nukkad natak presented by street children about life on the streets of Delhi was organized by our partner NGO Save The Children. Mr. Harpal Singh addressed the audience by giving insights to the Nanhi Chhaan Foundation that has achieved and done so much in the past 5 years and he also touched upon topical issues such as atrocities against women that are grabbing headlines nowadays. Mrs. Rekha Purie was next on stage to announce the new and important initiative that we intend to promote next year – The Nanhi Chhaan Inter-School Essay writing competition which will keep the social agenda live in the minds of young people through debate, discussions and interaction.
As is done in all Nanhi Chhaan events, planting of saplings was done by Mr. Ajay Shriram, President elect CII along with 4 other prominent individuals representing corporate, NGO and education arenas. Next item on the agenda was a scintillating dance recital by Katthak Guru Shovana Narayan and her troupe, titled "Dusshasan Bus Karo" – depicting women's struggle against exploitation.
Our Chief Guest and Patron Sh. Salman Khurshid addressed the gathering with words of encouragement and beautiful recital of poetry on the causes dear to us. His speech was inspirational and was well received by students (300+) and others in the audience.
The beats of Punjabi music and dance set feet tapping in the hall when girls from GHPS, Ganganagar performed a Gidda. Their energy, vibrant colour and catchy beats were thoroughly enjoyable and greatly appreciated by all. This exhilarating performance marked the close of the function with the vote of thanks delivered by patron Mr. Rajendra Pawar.
This high profile event continued with excited students getting their photographs taken with VIPs, media interaction followed by high tea in the foyer.