Nanhi Chhaan-Shivpuri Launch (26th July, 2012)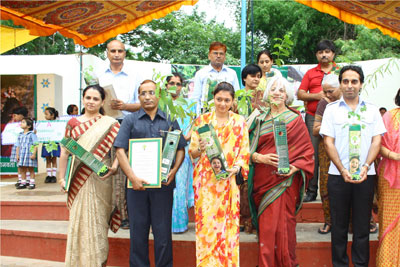 The Launch of the joint campaign with Happy Days School and Nanhi Chhaan started with great enthusiasm and excitement. Elaborate arrangements had been made with close coordination of Mrs. Gita Diwan and Nanhi Chhaan team thus ensuring a great turnout – 15 schools (including Scindia Boys & Girls school, Gwalior) participated with Principals/Teachers & 5-10 students in attendance, D.C., S.P., D.I.G., and the CRPF Commandant of their Shivpuri unit and other prominent Industrialists and Individuals.
The presence of Dr. Isher Judge Ahluwalia and Mrs. Priyadarshini Raje Scindia assisted greatly in ensuring the large presence of Government dignitaries and the sizable media contingent. There was a considerable Buzz in town as 2-3 pre-event stories had appeared in the press announcing the event.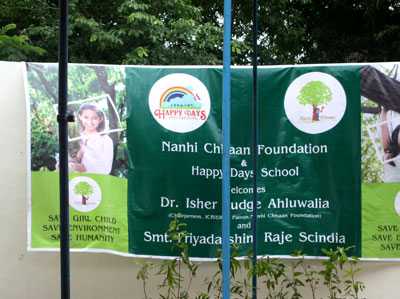 In an inspirational speech, the Chief Guest, Dr. Isher Judge Ahluwalia spoke of her personal life, her struggle in the early years and the opposition faced for seeking higher education. Her words touched many in the audience as the speech resonated with the Nanhi Chhaan theme of women's empowerment and her fight as a girl child against past practices to become what she is today. She also delivered the Anti-Dowry pledge to the students, copies of which had been given and read (Hindi & English) by all. The short skit presented by the aided, Hindi medium branch of Happy Days School was topical and much appreciated. It is amazing to see the passion and dedication to outperform, especially amongst the students of under privileged schools.
Guest of Honour, Smt. Priyadarshini Raje Scindia was extremely graceful and forthcoming in mingling amongst the students and teachers present. After signing on the Nanhi Chhaan pledge wall, she saw the posters made by participating schools with much interest and was highly appreciative. Saplings were planted by her along with Dr. Isher Judge Ahluwalia, the D.C., S.P., and Mr. Inder Dutt Salwan who had especially come from Delhi to be a part of the event.
Mementos given by Nanhi Chhaan (Madhubani Paintings) and Framed Pledges were also taken with keen interest and all schools promised to place these at a prominent location in their school premises. The program ended with VIPs departing for Delhi and refreshments served for all. An ominous sign was the extreme cloud cover before the function started which resulted in some anxious moments, but almost as if it was timed, the heavy downpour started just 5 minutes after the event ended signalling the onset of the much awaited monsoons in the region