Punjab Fashion Tour, Radisson Blu Hotel, Amritsar, 2nd September 2012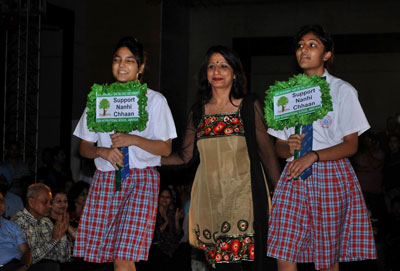 The second leg of Mr & Mrs Punjab, 2012 was successfully held at Amritsar on Sunday, 2nd Sep' 12. As was the case in Ludhiana, Nanhi Chhaan was given utmost importance and visibility for raising awareness towards issues fundamental to us. That the messages were well understood is clearly evident in the subsequent media articles that have appeared in the press – Tribune, HT, etc where Nanhi Chhaan and the cause of the girl child find mention in all the headlines.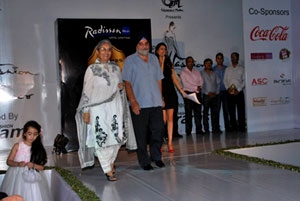 Nanhi Chhaan was well represented, our 'stars' on the ramp this time were Wg. Cdr. & Mrs. Sukhjit Singh who very ably went on in the 'Power Walk' segment which is designed specifically to promote the cause of the Girl Child. We also had Col. Balwinder Singh & Mr. Rajesh Sethi in attendance, with overall coordination pre & post event being done by Mr. Sanjay Joshi with our Galiara team assisting and managing the sapling kiosk at the venue. The gathering saw some high profile guests such as Mrs. Abha Rani Singh, Additional Commissioner of Income Tax, Amritsar and Commissioner, Gurdaspur, Dr. Mrs Neelam Kamra , Principal BBK DAV College for Women, Dr.Kirat Sandhu, Director, Springdale School and students of DAV Public School, Lawrence Road who walked the ramp in support of the Girl Child & Environment.
The next show is in Jallandhar after which the tour will move on to Bhatinda and Patiala before the grand finale in Chandigarh. The association will continue as the tour progresses and we are certain this platform will help us raise awareness levels on Nanhi Chhaan issues considerably.