Sanitation Project
Home
» Sanitation Project
Nanhi Chhaan Sanitation and Hygiene Project
Why are we doing This Project?
Approximately 600 million Indians lack access to a toilet. This is a human rights issue and a huge public health liability. Girls and women in particular are forced to restrict their education and employment opportunities, and to compromise their security and vulnerability to sexual violence when they do not have free and easy access to a toilet.
To Curb this menace Nanhi Chhaan Foundation has started a movement for providing clean toilet facilities for Women and Girls in rural areas of the country.
Nanhi Chhaan Sanitation and Hygiene project aims to provide sanitation facility to underprivileged and downtrodden section of communities in Punjab & Himachal Pradesh. Nanhi Chhaan has built more than 325 toilets in these regions to create a healthy and hygienic atmosphere and to promote awareness as how the use of toilets impacts the health, education, rights and safety/security of girls and boys, women and men in the communities. 250 Toilets have been built for families of downtrodden section in around 14 villages of Solan and 8 Villages in Bilaspur, Hiamchal Pradesh. 100 toilets are constructed in Four villages of Amritsar ,Punjab.
Nanhi Chhaan is a partner of the World Toilet Organization, DCM Shriram and Care Today in this endeavour and utilising there know how, technical knowledge and models for the construction of toilets.
Nanhi Chhaan Foundation WASH Journey So Far...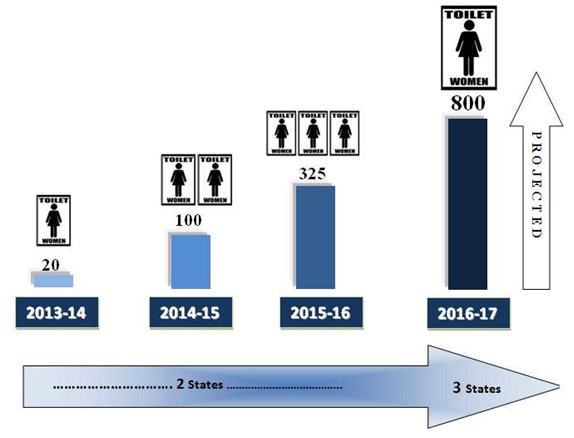 Key Outcomes of the Project:
Empowered girls and women in particular, with greater access to education and employment and reduced rates of drop outs in schools
Promotion of hygiene and health in target groups
Improved safety and security for girls and women
Other important features of the project
Utilization of best practices recommended by the experience of the World Toilet Organization, to improve hygiene and awareness
Training of trainers to train the school or Panchayat staff about Toilet use and its cleaning
Counselling to be provided by the staff to the girl children who have dropped out of the school and compel them to re enrol in the school, will be done as per the time and requirement by our female staff.