Nanhi Chhaan National School Essay Contest, 2018
Home
» Nanhi Chhaan National School Essay Contest, 2018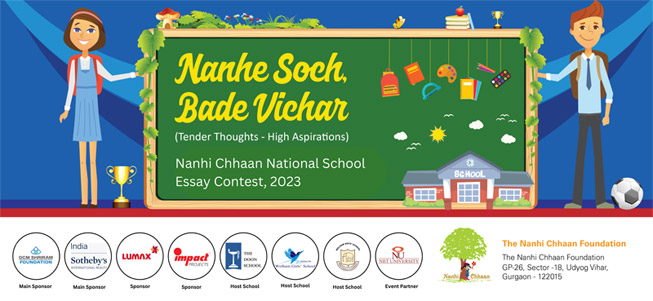 Dear Principal/Head of School,
Greetings from the Nanhi Chhaan Foundation!!
As informed earlier, we are now ready to start the process to hold the 5th Nanhi Chhaan National School Essay Contest 2018. Like before, it is our pleasure to share with you more details about the contest to allow your students to actively participate. As you know, participation in the contest allows your students, and the school, to be represented:
On a recognised national platform
Win prizes including cash awards
Compete with outstanding students
We are sure through this participation, your students will become more confident and add to their educational experience.
The Essay Topic for 2018 is:

"Empowering Women – will Society benefit"
By way of reference, we are pleased to share that in the 4th edition of the Essay Contest in 2017, over 15,000 students participated on the topic – " Child marriage – It must be stopped". Previous year winners have come from schools across the country including some of the prestigious ones such as Vasant Valley School, Delhi; Mayo College, Ajmer; Kodaikanal International, Tamil Nadu; DPS etc.
It is with pleasure that we invite the school and your students to participate in the 5th edition of the Essay Contest and allow your students to be a celebrity, on a national platform and engaging on issues of national importance. More importantly, it is through participation in such competitions that the quality of a student's learning experience is enhanced.
More details of the contest are enclosed. Looking forward to your confirmation.
Warm regards,
Harpal Singh Chairman –
Nanhi Chhaan Foundation
Encl.: as above
DETAILS OF 5TH NANHI CHHAAN NATIONAL SCHOOL ESSAY CONTEST 2018
1. Essay Topic for 2018
"Empowering Women - will society benefit?"
2. Students participation: Only children studying in Class X and XI can participate by writing essays. Please confirm your school's participation latest by the 10th of August 2018.
3. The First Round of the contest is to be held in the school as part of the school's normal English subject studies. The school is requested to have class X and the XI class students to write an essay of not more than a 1000 words on the topic which should be marked by the school's own examiners.
4. The school should select 2 of its best essays and send the same to us in digital form with fond size 12 and the print as Times New Roman. Children of-course can write the essay in the normal way chosen by the school.
5. The two selected essays should be sent to us to reach us no later than the 20th of August 2018.
6. In the second and final round, 15 students who write the best essays will be called for a prize giving function in Chennai in the 3rd week of September 2018. The final round will be in two parts. In the first part, each of the 15 finalists will be required to write another essay on a topic that will be announced on that day itself. This is to re-establish the calibre of the finalist students. In the second part, there will be a group discussion and the final winners will be selected on the basis of the original essay, the second essay and the group discussion. The winners of the competition will receive special prizes for the First & Second positions with the balance finalists also receiving prizes.
7. This year like last year, the prize distribution ceremony will be held in Chennai in the 3rd week of September. More details will follow.
8. In addition to the prize distribution ceremony, like every year, 30 students who have written the best essays will be invited to attend a Personality Development Programme for 5 days at the NIIT University in the month of December 2018.
9. Please feel free to contact us in case you have any queries. All future correspondence on the contest may be addressed to:

Mr. Aditya Dayal
Nanhi Chhaan Foundation GP-26,
Maruti Industrial Estate Udyog Vihar,
Sector-18, Gurgaon 122015
Tel: 0124-2341825, 4278147, 4104697
Fax: 0124-2340825
Mob: +91 9810037995, 8178980323
Email: essay@nanhichhaan.com