Fortis Nanhi Chhaan Day
Fortis – Nanhi Chhaan Day - 6th March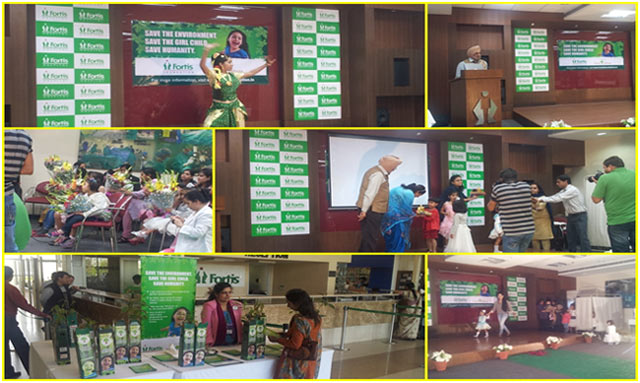 The 3rd edition of the Fortis – Nanhi Chhaan day was celebrated on 6th of March across 24 Fortis facilities in India. There was considerable buzz around this day as detailed planning of activities had been done with the involvement and encouragement especially of the Doctor/Nursing fraternity.
In the Delhi /NCR area, a larger event was organized at Fortis, Noida and in Punjab, events were planned in Mohali & Amritsar. The occasion was marked by the planting of trees and the gifting of saplings to patients, neighboring schools and RWAs.
In the short span of two years, since the programme was instituted, 30,000 saplings have been distributed, gifted and planted at various Fortis hospitals.
Adding his weight to the effort, Mr. Aditya Vij, CEO-India, Fortis Healthcare Limited, said, "Fortis remains committed to the cause of quality, compassionate patient care and a support system for the underprivileged and vulnerable sections of society. The Fortis Foundation through the network of Fortis hospitals located across the country runs diverse programs to benefit communities surrounding their individual locations. Celebrating Nanhi Chhaan Day across the network of Fortis hospitals serves to remind us of the nurturing role played in our lives by women and the environment, and the need to protect and empower them."
On the occasion Mr. Harpal Singh, Chairman, Nanhi Chhaan Foundation, whilst highlighting the importance of social change said, "It is of utmost importance for everyone to contribute to the development of society and to bring social change. Nanhi Chhaan foundation is committed to the causes of Girl Child protection, Environment preservation and Inter – Faith harmony and will continue to encourage all sections of society to become proactive partners in this endeavour."
24 hospitals across the network actively support the noble initiative and in the National Capital region, the Nanhi Chhaan day was celebrated with great vigour at the Fortis Memorial Hospital, Gurgaon, Fortis Hospital, Shalimar Bagh, Fortis Escorts Faridabad and Fortis Hospital, Noida.
At Fortis, Noida, Mr. Harpal Singh along with our trustees Mr. Deepak Nirula and Mrs. Japna M. Singh, saw with great interest the rather well organised function where the enthusiasm and momentum towards the Nanhi Chhaan agenda was palpable. A special mention needs to be made for the stars of the show, the presence of little girls and their energetic fashion show performance as also for the nursing and housekeeping staff, who gave an excellent topical nukkad natak.